COMING | Steve Whitney To Produce Suge Knight Biopic… Deal struck with incarcerated mogul.
A biopic documenting the life of Death Row Records co-founder Marion "Suge" Knight is currently in the works after the incarcerated mogul struck an agreement with producer Steve Whitney and TSW films to sign over his life rights.
It was reported today by Dateline that Producer Steve Whitney and his company TSW Films have consummated a deal and purchased Suge Knight's life rights with plans to develop a biopic on the infamous music mogul, Whitney is reportedly bringing Nick Cassavetes and Andrew Thorne into the project to write the script.
Suge Knight, The former music exec born Marion Hugh "Suge" Knight Jr. co-founded the iconic label Death Row Records in 1991 and is credited with bringing the subgenre of gangsta rap from the underground into the mainstream after NWA's second album, 'Efil4zaggin', broke ground as the first gangsta rap album to reach no.#1 on Billboard pop charts in 1991. Actually the steady drive and impact of Death Row over time actually made gangsta rap the mainstream over all other rap and hip hop.
When Death Row released Dr. Dre's "The Cronic, Lp" in December of 1992, it ushered in a paradigm change already in motion that largely smothered much of black radio as we knew it and killed off much of the other forms of hip hop making gangsta rap, and specifically, West Coast G-Funk, the predominant genre that dominated the rap charts.
Beginning with the success of The Chronic, and followed by Snoop Dogg's '93 release Doggystyle, Lp which debuted at No.#1 on Billboard selling 800,000 copies in it's first week before going on to quadruple-platinum, then followed by the release of Tupac Shakurs' All Eyez On Me, Lp in February of 1996, we then saw the mainstreaming of hard-core rap acts begin dominating the airwaves and record charts, acts like the Geto Boys, DMX, Cypress Hill, Wu-Tang Clan among others.
Knight's Death Row label had created a monster wave and was riding it, other G-Funk artists enjoying the swell created by Death Row were MC Eiht, Spice 1, MC Ren, and Ice Cube among others, though none of those named artists were signed to Knights label.
When Suge Knight, Dr Dre, Snoop Dogg and Tupac Shakur adorned the cover of Vibe Magazine in February 1996 coinciding with the release of Tupac's debut 'All Eyez On me' album, they became the face of hip hop.
Knight's label had enormous success with over 50 artists and profits of over $100 million a year, but fell into bankruptcy after the departure of Dr. Dre and Snoop Dog, the murder of Tupac and the 2018 incarceration of Knight on charges of voluntary manslaughter.
ADVERTISEMENT
Knight is currently incarcerated at San Diego's RJ Donovan Correctional Facility after crashing his car into Heayweight Records co-founder Terry Carter and filmmaker Cle Sloan in 2015—killing Carter and severely injuring Sloan. While he pleaded no contest to the charges against him, he will not be eligible for parole until July 2037.
Knight's notoriety has seen him be portrayed over the years in numerous films, including Too Legit: The MC Hammer Story, Notorious, Straight Outta Compton, Surviving Compton: Dre, Suge & Michel'le and All Eyez on Me, along with the USA Network series Unsolved. He also was at the center of the 2018 Showtime documentary American Dream/American Knightmare, directed by Antoine Fuqua.
"During the golden era of rap and hip hop, all roads led through Suge Knight," said Whitney. "That era helped define a new brand of music and culture that changed the world."
Knight, regarding the deal was quoted in part saying… "I jumped off the porch in my neighborhood at a young age but never forgot where I came from. Most people try to ride for the hills, I made it and tried to bring as many people to the hills with me and feel that I was successful at it."
Whitney has focused thus far in his career on bringing true life stories to the screen—including One Chance, a film about Britain' s Got Talent winner Paul Potts, starring James Corden, which he exec produced with Simon Cowell. Additional credits include The Haunting in Connecticut with Virginia Madsen and the remake of The Amityville Horror with Ryan Reynolds.
Cassavetes is an actor, writer, director and producer who recently wrapped production on God Is a Bullet—a crime drama he wrote and directed, starring Jamie Foxx. His past credits include The Notebook, John Q and Blow. Thorne is a writer and producer whose credits include Tragedy Girls and After Exile.
 ARRESTS MADE | 4 arrested for Michael K. Williams overdose death
days had gone to check on him and found his body.
Four men have been arrested in connection with the Overdose death of Michael K. Williams, actor who starred in HBO's Iconic "The Wire."
Williams was found dead in his Brooklyn penthouse apartment in September 2021 from an overdose of fentanyl-laced heroin. A relative who hadn't heard from Williams in a couple of days had gone to check on him and found his body.
On Wednesday, federal authorities announced the arrest of Irvin Cartagena, aka "Green Eyes," on narcotics conspiracy charges.
Hector Robles, aka "Oreja," Luis Cruz, aka "Mostro," and Carlos Macci, aka "Carlito," were charged as members of the fentanyl and heroin conspiracy.
Since at least in or about August 2020, the drug trafficking organization the "DTO" has been operating in the area of 224 South 3rd Street in the Williamsburg neighborhood of Brooklyn, prosecutors claim. They say DTO sells heroin laced with fentanyl and a fentanyl analogue on the street in front of, and from an apartment inside of, the apartment building located at 224 South 3rd Street, among other places.
They say around September 5, 2021, members of the DTO sold Williams heroin, which was laced with fentanyl and a fentanyl analogue, with Cartagena actually handing over the drugs, surveillance video showed. The surveillance images show Williams in a black tracksuit taking a plastic bag from Cartagena while he's standing behind trash cans on a street in Williamsburg. Another picture shows the two exchanging cell phone numbers.
Hours later, Williams was found dead inside his apartment.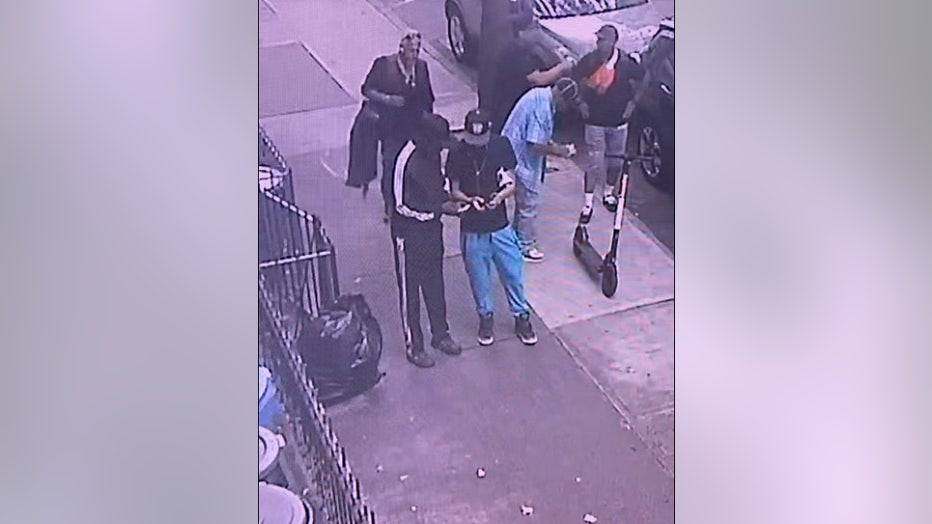 Prosecutors say a screenshot from a surveillance video shows a drug dealer selling fentanyl laced heroin to actor Michael K. Williams.
Cartagena was arrested Tuesday in Puerto Rico. Robles, Cruz, and Macci were arrested in New York and were expected to be in front of a Manhattan federal judge on Wednesday.
Cartagena, 39, of Brooklyn, Robles, 57, of Brooklyn, Cruz, 56, of Brooklyn, and Macci, 70, of Brooklyn, are each charged with conspiracy to distribute and possess with intent to distribute fentanyl analogue, fentanyl, and heroin, which carries a mandatory minimum sentence of 5 years in prison and a maximum sentence of 40 years in prison. Cartagena is also charged with causing the death of Williams in connection with the narcotics conspiracy, which carries a mandatory minimum sentence of 20 years in prison and a maximum sentence of life in prison.
"We will continue to hold accountable the dealers who push this poison, exploit addiction and cause senseless death," U.S. Attorney Damian Williams, no relation to the actor, said on Wednesday.
Peter Frankel, a former federal prosecutor, explained why this is a federal case.
"You've got a high-profile death, you've got fentanyl, which is ravaging our society, and you have a situation where if this went to state court, you'd be looking at all four of them getting out the night that they were arraigned and no prosecution for homicide," Frankel said. "So, I think for all those reasons, you see the feds involved here and you may see the feds getting involved more and more in street-level drug deals."
Williams, 54, was famous for his role as Omar Little in the TV series "The Wire" and as Chalky White in "Boardwalk Empire." He also appeared in the movies "12 Years a Slave," "Assassin's Creed," and others.