Wu-Tang: An American Saga is renewed, but, coming to an end at Hulu.
The show made its debut in September 2019 on Hulu and returned for Season 2 in September of this year. The 10-episode seasons chronicle the formation of one of Hip-Hop's most formidable collectives and give fans insight into the members' personal journeys
The series is set in the early 1990's, and with the worst of the crack cocaine epidemic as a backdrop, the vision of Bobby Diggs aka The RZA comes to fruition with the formation of the Clan who are basically a dozen brazen young, black men who are torn between music and crime but eventually rise to become the unlikeliest of American success stories.
Hulu has recently renewed the drama series about the origin story of the iconic New York rap crew for a third and final season. that news comes as the series finished its second season at the end of October, with the band scoring record deals but finding much of their recorded output was destroyed in a basement flood.
The second season saw the Clan distracted and very disillusioned with everyday life in the projects, and only Bobby knows their individual talents and it's value in the music industry, But getting the Clan members to drop everything for music isn't easy. And therein lies much of the drama. The rolling resentment between Dennis, Sha, Power and Divine still runs deep, while the other Clan members struggle dealing with intercity life.
This time around, Bobby knows he can lead his crew through the challenges of the music business, by focusing on artistry, authencity and tenacity, but in both, seasons one and two, it seems the Clan's mounting fractures may prove too great to overcome.
Wu-Tang: An American Saga stars Ashton Sanders, Shameik Moore, Siddiq Saunderson, Julian Elijah Martinez, Marcus Callender, Zolee Griggs, T.J. Atoms, Dave East, Johnell Young, Uyoata Udi and Damani Sease.
The series, which was created and written by Alex Tse and The RZA and executive produced by Tse, The RZA, Method Man and Brian Grazer and produced by Imagine Television Studios was marketed to Hulu on the premise of helping to drive Black audiences to the streaming service.
 ARRESTS MADE | 4 arrested for Michael K. Williams overdose death
days had gone to check on him and found his body.
Four men have been arrested in connection with the Overdose death of Michael K. Williams, actor who starred in HBO's Iconic "The Wire."
Williams was found dead in his Brooklyn penthouse apartment in September 2021 from an overdose of fentanyl-laced heroin. A relative who hadn't heard from Williams in a couple of days had gone to check on him and found his body.
On Wednesday, federal authorities announced the arrest of Irvin Cartagena, aka "Green Eyes," on narcotics conspiracy charges.
Hector Robles, aka "Oreja," Luis Cruz, aka "Mostro," and Carlos Macci, aka "Carlito," were charged as members of the fentanyl and heroin conspiracy.
Since at least in or about August 2020, the drug trafficking organization the "DTO" has been operating in the area of 224 South 3rd Street in the Williamsburg neighborhood of Brooklyn, prosecutors claim. They say DTO sells heroin laced with fentanyl and a fentanyl analogue on the street in front of, and from an apartment inside of, the apartment building located at 224 South 3rd Street, among other places.
They say around September 5, 2021, members of the DTO sold Williams heroin, which was laced with fentanyl and a fentanyl analogue, with Cartagena actually handing over the drugs, surveillance video showed. The surveillance images show Williams in a black tracksuit taking a plastic bag from Cartagena while he's standing behind trash cans on a street in Williamsburg. Another picture shows the two exchanging cell phone numbers.
Hours later, Williams was found dead inside his apartment.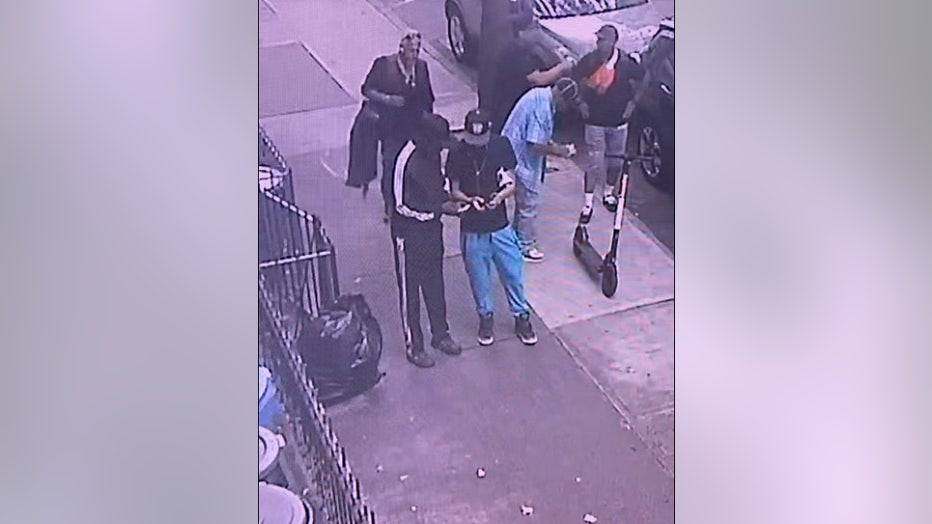 Prosecutors say a screenshot from a surveillance video shows a drug dealer selling fentanyl laced heroin to actor Michael K. Williams.
Cartagena was arrested Tuesday in Puerto Rico. Robles, Cruz, and Macci were arrested in New York and were expected to be in front of a Manhattan federal judge on Wednesday.
Cartagena, 39, of Brooklyn, Robles, 57, of Brooklyn, Cruz, 56, of Brooklyn, and Macci, 70, of Brooklyn, are each charged with conspiracy to distribute and possess with intent to distribute fentanyl analogue, fentanyl, and heroin, which carries a mandatory minimum sentence of 5 years in prison and a maximum sentence of 40 years in prison. Cartagena is also charged with causing the death of Williams in connection with the narcotics conspiracy, which carries a mandatory minimum sentence of 20 years in prison and a maximum sentence of life in prison.
"We will continue to hold accountable the dealers who push this poison, exploit addiction and cause senseless death," U.S. Attorney Damian Williams, no relation to the actor, said on Wednesday.
Peter Frankel, a former federal prosecutor, explained why this is a federal case.
"You've got a high-profile death, you've got fentanyl, which is ravaging our society, and you have a situation where if this went to state court, you'd be looking at all four of them getting out the night that they were arraigned and no prosecution for homicide," Frankel said. "So, I think for all those reasons, you see the feds involved here and you may see the feds getting involved more and more in street-level drug deals."
Williams, 54, was famous for his role as Omar Little in the TV series "The Wire" and as Chalky White in "Boardwalk Empire." He also appeared in the movies "12 Years a Slave," "Assassin's Creed," and others.